Self Storage Units in New Germany
new germany self storage
A 5 minute drive from Pinetown central, lies the industrious area of New Germany (15 Goshawk Rd, New Germany). Surrounded by suburbs such as Padfield Park, Manors, and Wyebank, Lock Up Storage New Germany is ideally situated for your convenience – you don't have to drive far to get to your stored belongings. This location offers a range of rental options to accommodate every kind of storage need. CONTACT US ON 031 942 9333 OR INFO@LOCKUPSTORAGE.CO.ZA
Short and Long-Term Storage Rental Solutions
Lock Up Storage New Germany is a self-storage facility. This indoor facility offers some of the best long-term rental prices. It caters to Personal, Business, Student, Vehicle, and Watercraft Storage. Here you can store your stuff with us with no fuss! No matter your situation or storage size requirements, we have options for everyone. Pick from various sizes or choose to rent units with electricity so you can run your small business. You can also choose to store on a month-to-month basis or keep your belongings here over a fixed period – it's up to you.
What You're Getting
When you rent storage space with us, you can look forward to the following:
Trolleys provided to easily load and offload your goods.
Great prices - especially for long-term household storage.
Collection that's free of charge (for 90-day customers who are within 40km of our site).
Pay for 11 months and get the 12th month free!
A team of professionals ready to take storage services to the next level.
Concrete roof tops (over the majority of units) which help to maintain consistent temperatures inside.
Top-notch security, with CCTV cameras, access control, alarms with armed response, electric fencing to secure the storehouse perimeter.
Fire hydrants available for any emergencies.
Access at any time of the day or night.
Privacy and neat, tidy units.
A key that no one else has a copy of.
Space size options ideal for furniture storage.
A variety of storage options to meet every budget and need.
Plenty of units with electricity, enabling you to use the space to run a small business from.
New Germany Unit Sizes
The storage unit sizes we offer at this location are as follows:
1.5m x 5m
3m x 4m
3m x 5m
3m x 6m
3m x 7m
Our Monthly Rental Costs
To get an idea of what it costs to rent each month, we will need you to provide us with your size requirements. Fortunately, we've taken the hard work out of estimating your space needs and have developed a handy space calculator to help you easily picture just what you require.
What Others Say About Our Services
"We have never experienced such professional service before. Lock up Storage picked up goods and transported it for storage. From Liam to Goodboy, Mandla, Bongani, Siya and Phumlani, you guys really give your company an outstanding name. Well done on excellent service rendered." Paries Naidoo
"Good communication, great service." William Roux
"Outstanding service."Cale Reddy
"Various storage sizes at very reasonable prices. Open 24/7."Dudley Stops
"Great value for money. Safe and secure."Lex Holtzhausen
"I am so impressed with your New Germany units - what a pleasure - clean and safe. Well done!"- Sheryl-Lynn Fletcher-Evans
"Safe, clean storage units. Easy access to parking for motor vehicles and 8-tonne trucks."MKQ Movers
"Safe lock up storage." Mduduzi Sithole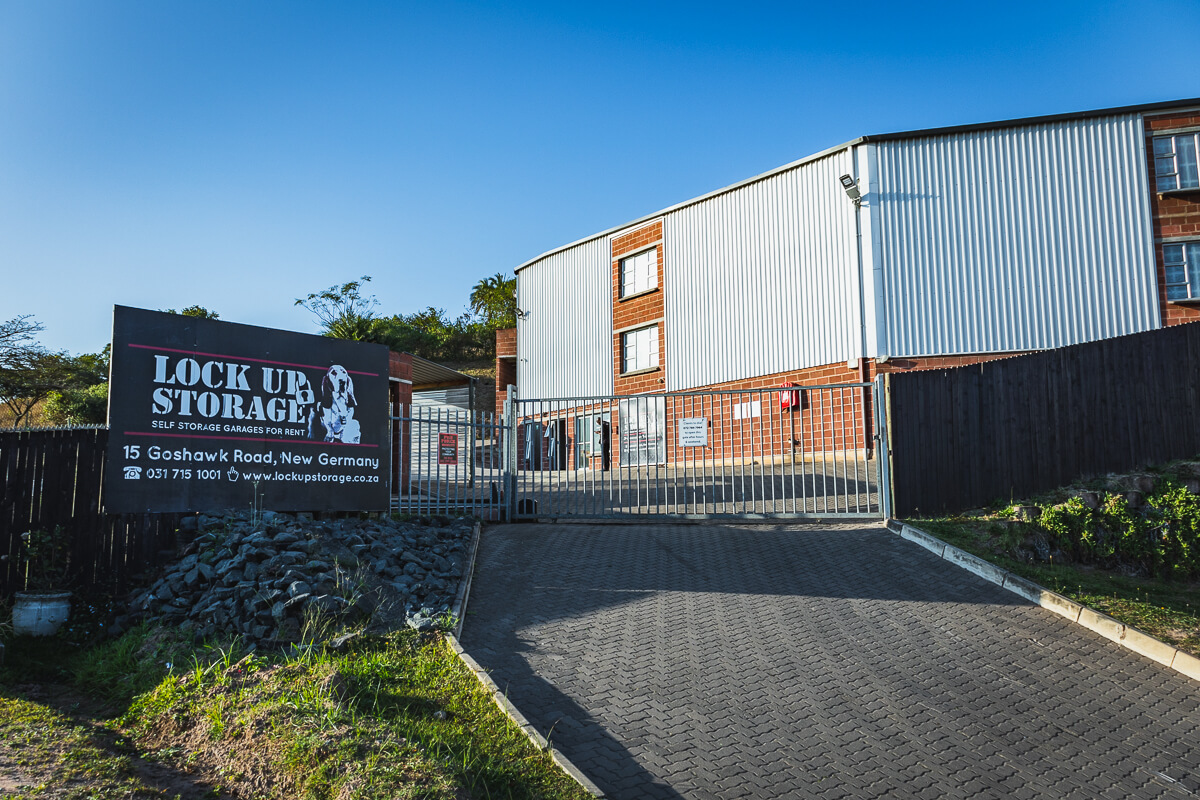 Areas serviced by Lock Up Storage New Germany:
---
Pinetown
New Germany
Kloof
Springfield Park
Reservoir Hills
Westville
Queensburgh
For Self Storage, please feel free to visit us at one of our locations, get a free quote or give us a call on 031 701 0481