Self Storage Units Durban North
Storage Units Durban North
Lock Up Storage Durban North is situated at Unit 19, 80 Rinaldo Rd, Redhill in the heart of the industrial hub of Glen Anil and not far from La Lucia - you could not find a more convenient location! Renters love the fact that we are located along a main business route and that they can zip in and out from the main road. This Self Storage facility gives you many space options at affordable prices and with highly secure rental units - which attract local business owners keeping stock. Use our storage units and parking spaces for personal, business, student, caravan, trailer, boat, or heavy equipment storage – or for whatever else you'd like! CONTACT US ON 031 942 9333 OR INFO@LOCKUPSTORAGE.CO.ZA
Durban North self storage rentals
Need a little extra space? Individuals living in the suburbs of Umgeni Park, Prospect Hall, and Athlone can benefit from our easy-access storage services. Our storehouse along Durban's North coast, offers you storage units to rent that are available in many different sizes. You can rent these units on a month-to-month basis or choose a more long-term storage option, depending on your requirements. Whether you choose to rent one unit or multiple units, you can rest assured knowing your household or stored business goods are in safe hands with an electric fence around the perimeter, CCTV cameras monitoring every move in and out of our facility, smart access control systems, and alarms with armed response.
Our Benefits
We collect your goods for free if you choose to store with us for 90 days (within 40km of sites).
We have a professional in-house team to carry your items with care.
You can access your rental unit whenever you like with 24-hour access.
A clean and well-maintained space.
A centrally located facility you don't have to travel far to get to.
Each unit is equipped with fire hydrants.
Competitive monthly rental prices, starting at as little as R350 per month.
A range of storage unit sizes to choose from.
When you rent a unit for 11 months, you'll get the 12th month free!
One of the best locations to store motorbikes.
Durban North Storage Unit Sizes
Here are the sizes available at this location:
2.5m x 1.2m
2.5m x 2.5m
2.5m x 3.7m
2.5m x 5m
2.5m x 6m
How Much Will I Pay for My Storage Space?
Our process is simple: choose the square meterage of space you need, get a quote, and visit your unit! But knowing what size you need, and ensuring you don't pay for more space than you need is not as simple. Luckily, we've got a tool to help you with this. Use our size calculator to get a more accurate estimation your space needs, which you can use as a guide for the price you'll pay.
Reviews
Read what our clients think of our Durban North storage facility: "I just wanted to thank James and his team for the excellent service we received! It was a pleasure to deal with their team – from the paperwork for signing up for the monthly storage, to the efficient team that arrived and loaded all our boxes and furniture with a smile! They even had to take a massive whiteboard over the roof to get it out, and even that did not phase them at all. Very rare in this day and age to get such good service, thank you!"- Alice Leah
This company is great and the staff are fantastic. They have been friendly, accommodating, and professional. From the movers to the gentleman who helped me find my storage unit (months after everything was moved) everything has been pleasant and efficient."- Tamar Panaino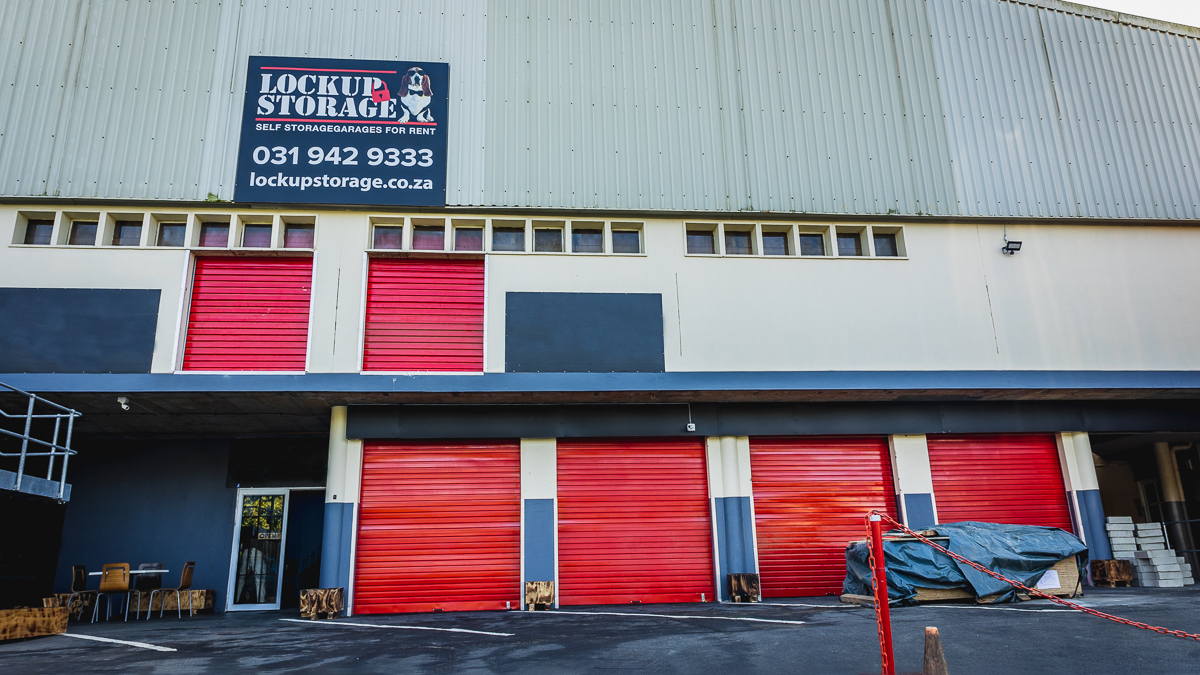 Areas serviced by Lock Up Storage Durban North:
---
Durban North
Springfield
Riverside
La Lucia
Umhlanga
Morningside
For Self Storage, please feel free to visit us at one of our locations, get a free quote or give us a call on 031 701 0481